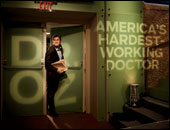 Photo by Art Streiber
 Dr. Oz: America's Hardest Working Doctor
 He's a stellar
surgeon and TV star—but Mehmet Oz has one major obsession: You. His exclusive health plan can transform your life in just six months
Dr. Mehmet Oz is steamed. One of his two heart surgeries for the week has been slated for the wrong time, and now his whole surgery-day schedule is collapsing. Juggling phone calls in his small, standard-issue office at 30 Rockefeller Center, Oz speaks to a series of Columbia University hospital staffers, his voice at a controlled burn. Finally he tells the chief of staff at his surgical practice to manage the mess. If this isn't sorted out, he knows, he won't be able to operate at all this week—and his patients could suffer.
"The schedule for Thursday has to be redone," Oz tells the receiver, turning his back to a desk scattered with papers and bottles of Fiji water. "I want you to start from scratch and do the whole thing again." And so the chief of staff does—rebooking the coronary bypass, the heart-valve repair, the consult after consult. Meanwhile, Oz shakes off the rare moment of anger and returns to his full-time job as daytime TV's latest dish.
When Oz was 35, The New York Times Magazine called him "probably the most accomplished" cardiothoracic surgeon his age in the country. Now 50, the lean, limpid-eyed physician is an Oprah-branded TV star with a new syndicated program, The Dr. Oz Show, airing all over the country. Oz has given up most of his practice to focus on his show, but he still operates one day a week, performing more than 100 surgeries a year. "My wife jokes that I'm a Gemini," he says, "so I always have two lives at once."
Though his talk show bears all the genre's stagy hallmarks—its makeovers, its celebrity guests, its confrontations and tears—Oz is not just a real doctor; he's a leader in his field. The only reason he whittled his practice down to those fraught, precious Thursdays is that he wants to be your doctor, too. And he's not likely to stop trying until you let him.
Most fans know Oz because of his guest appearances on Oprah Winfrey's syndicated daytime show. But as his wife, Lisa, points out, "Oprah was on Oz before Oz was on Oprah." In 2003, at the invitation of a TV executive who had been his Harvard roommate, Oz hosted his first TV series, a 13-parter on the Discovery Channel called Second Opinion With Dr. Oz. One of his guests was Winfrey, who discussed her battles with weight.
In turn, Winfrey invited Oz to her show to talk about healthy eating and exercise. In subsequent visits, he perfected his trademark shtick of horrifying studio audiences by displaying real human organs in behavior-related decay: a calcified aorta, a cirrhotic liver, a tar-riddled lung. His message: Take care of your body—or else. And Winfrey and her audiences listened. "Dr. Oz has been one of the catalysts for how I view my own health," says Winfrey. "He has brought me closer to better health, better wisdom, and a better life for myself." Last fall, like Dr. Phil (McGraw) before him, Oz springboarded from frequent-guest status to being the host of his own syndicated show coproduced by Winfrey's Harpo Productions.
How could an esteemed surgeon find contentment on a chat show? To hear Oz tell it, the two fields are more alike than they appear. "I tend to be impatient," he confesses. "I want to know if what I did was right—now. In heart surgery, when you make a mistake, the patient tells you immediately, because their heart stops beating." Similarly, Oz says, an audience gives immediate feedback about what's working and what's falling flat. And the swirl of writers, producers, camera people, stagehands, and other staff—a total of 149 people work on Dr. Oz—look to the host to keep tapings on track.
ABC World News anchor Diane Sawyer, a friend of Oz's since he began doing guest spots on Good Morning America in the mid-2000s, sees no conflict between Oz the healer and Oz the performer. "When he's doing television, he's teaching; that's what he also does in life," she says. "It's just an expanded form of teaching."
Despair over his patients' poor health choices was the catalyst for Oz's eventual foray into broadcasting. "I grew up thinking that medicine would offer everything I wanted it to offer me," remembers Oz, whose father and father-in-law are surgeons as well. As a medical student at the University of Pennsylvania (where he simultaneously earned an M.B.A.), and then as an intern, resident, and professor at Columbia, Oz reveled in the intellectual challenge of research, the physical challenge of surgery, and the human contact of patient care. "But it became progressively more frustrating to take people into the operating room when I knew they had created their own problems," Oz recalls. "If they'd known what to do differently, even a year or two earlier, they wouldn't have needed the operation."
Wife Lisa, then a TV producer, suggested a solution: instead of advising patients one by one, Oz could reach millions of people before they became heart patients by delivering diet and exercise advice through the media. If he'd stuck to the life of an ivory-tower surgeon, Oz says now, "I'd just be cursing the darkness for the rest of my career. This is an opportunity to light a torch."
Oz also credits Lisa—with whom he has four children, ages 10 to 24—for another crucial part of his professional development: she and her family introduced him to the complementary therapies that have become a core part of his practice and show.
"When we were engaged, a friend and I made him do yoga on my back lawn" in Philadelphia, recalls Lisa. "My family has always used homeopathic medicine." Her father, Gerald Lemole, M.D., was chief of cardiothoracic surgery at Temple University. That made the family's unusual health practices more palatable to Oz, Lisa says: "If we'd been some sort of hippies, he might not have embraced it." With Lisa, Oz went to India to study with Dean Ornish, M.D., whose program of diet, exercise, and meditation has been shown to reverse heart disease. And Oz investigated the field of functional medicine, which seeks to correct chemical imbalances in the body to promote optimal health.
"Alternative medicine, at least as I envision it, and as Lisa and her family practice it, is not just another way of lowering your cholesterol," Oz explains. "It's a very different way of thinking about the role of health in your life. Health, in her family, is a sacred process. You are emotionally connected to the people around you; you live in relationships that are healthy for you. Food is not just something you pull off a shelf—it has a life force to it." Whereas conventional medicine identifies ailments and attempts to fix them, he says, this alternative mindset seeks to prevent ill health from arising.
Oz believes the greatest medical advances of the next decade will come from manipulating the body's flow of energy, as Chinese practices such as acupuncture seem to do. "I've always been frustrated that we've not been able to measure energy," he says. "But I'm not willing to write off what a billion people think is possible, just because we can't measure it in the West."
Born in Cleveland to Turkish immigrants, Mehmet Oz was by all accounts a golden boy—handsome, studious, athletic, and full of deferential charm. At Tower Hill School in Wilmington, Delaware, he was an all-state football player, recalls coach Steve Hyde, but Oz also danced in the chorus of Bye Bye Birdie, and "he approached that with the same enthusiasm. He stood out in everything he did."
"Mehmet has always been a great guy," says Michelle Bouchard, who has been a friend since 1980. "But I remember being struck by the fact that he was always so focused. He has always been a man on a mission."
Since 2008, Bouchard has helped further Oz's mission by serving as president of HealthCorps, a nonprofit he founded to fight obesity and foster mental resilience among U.S. schoolchildren. Modeled on the Peace Corps, the organization hires recent college graduates for two-year stints in schools, where they educate students, teachers, and administrators on healthy habits. Already, students in HealthCorps schools are drinking less soda and exercising more, one study showed. The agency's $5 million budget includes grants from the Kellogg Foundation and the City of New York.
HealthCorps currently serves 50 schools in 9 states, with plans to be in all 50 states by 2013. But Oz's long-term goal, Bouchard says, is to make Americans' behavior so much healthier that HealthCorps is no longer necessary. "He is spawning a political and social movement," she says.
Another prong in Oz's attack on ill health is the series of bestsellers he writes with Michael Roizen, M.D., chair of the Cleveland Clinic's Wellness Institute. Starting with YOU: The Owner's Manual in 2005, Oz and Roizen have published six YOU books on various aspects of health.
"I couldn't think of a better writing partner than Mehmet," says Roizen. Oz makes information "positive and playful and really succinct," he says. But despite the playfulness—Oz is famous for his practical jokes, which include once rigging a raw turkey to spout fake blood when his mother cut into it—he's all business when there's writing to be done. "He tolerates no downtime," Roizen says. "If I start to tell a joke that isn't a joke for the book, he'll say, 'Mike, stay on point.' Every movement has an intent to get to a specific place."
Oz also advocates for healthful policies, testifying before Congress about how integrative medicine could help rein in health care costs. A Republican himself, Oz says no health care reform, whether from the left or the right, can succeed unless Americans transform their lifestyle to avoid the diabetes, heart disease, and other preventable ailments that cripple the country financially as well as physically. Says Senator Barbara Mikulski (D-Maryland): "Dr. Oz is one of the most influential people out there promoting health care and sound living." She calls him "the surgeon general of the airwaves."
Of course, Oz's main platform these days is his show, which he tapes across the hall from where Jimmy Fallon tapes NBC's Late Night. Viewers come to Dr. Oz for the pop quizzes, exercise tips, and other light segments, but also for the drama of the "truth tube"—a corner of the set where a guest's weight, blood pressure, and other health numbers are posted. Oz uses these stats to confront the guest and offer to help change unhealthful habits. And the changes work: he put one meat-loving 53-year-old cowboy named Rocco on a vegan diet and reversed his diabetes in 28 days.
The doctor follows his own orders for healthy living, and it shows, both in the slender frame he reveals in close-fitting surgical scrubs and in his seemingly boundless energy—"electrifying vitality," as Diane Sawyer puts it. His diet features fruits and veggies, grains, and lean protein. (Raw nuts soaked in water, in the Turkish style, are a staple.) He does transcendental meditation regularly and says his 20-year habit of daily yoga is "the most important health practice I have adopted."
The one area where Oz won't take his own advice, says wife Lisa, is in getting enough R and R. Though he spends time with his kids on the weekends—wrestling, playing sports, learning to juggle—the rest of the time "Mehmet leaves the house before 6:00 and gets home after 10:00," she says. "He doesn't come home for dinner anymore, which is endlessly frustrating." (Oz often dines at a vegan restaurant or brings leftovers from home.)
But Lisa believes getting older will force Oz to make recharging a higher priority. She mentions a recent injury: playing basketball with his 15-year-old daughter, he tore his Achilles tendon. "That never would have happened at 40," Lisa says. "He's beginning to see that he's not invincible."
Which raises the question: By driving himself too hard, does Dr. Oz risk harming his own health while trying to restore the nation's? "I do worry about it," Lisa says. "But I think he'll figure it out. He's a pretty smart guy."
Dr. Oz: America's Hardest Working Doctor